Wellbeing Week 2019 Blog

Thursday – Tai Chi
Painshill Director, Paul Griffiths continues his Painshill's Wellbeing Week challenge with a Tai Chi class with Sue Woodd
What exactly is Tai Chi?
Tai Chi was described form of martial art where you 'shadow box' yourself allowing you to release negative energy,  stress and tension
What are the benefits of practicing Tai Chi?
Working all the body and allowing the stresses of everyday life to escape
Would you try Tai Chi again?
Definitely- it was an amazing session
What is it about the landscape that lends itself to promoting Wellbeing classes?
You get an amazing feeling of being at one with nature
Find out more about Sue at suewoodd.com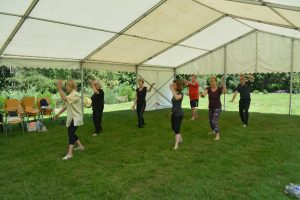 Wednesday – Self-Care Yoga in the landscape
Painshill Director, Paul Griffiths joined a yoga session out in the Painshill landscape as part of Painshill's Wellbeing Week.
Have you tried yoga before?
Never!  Always been very nervous I am not flexible enough for it
What did you think of the self-care session with Luma?
It was fabulous, Luma obviously runs sessions at Painshill every week and I have always be tempted to try it
What do you think yoga could help you with?
It was great to stretch out so many muscles and was very relaxing
How did the outside setting add to the experience?
It was a stunning setting, as Yoga is so much about feeling grounded with the earth being outside on the grass made it a memorable experience
Find out more about Luma Yoga on and look out for her regular classes at Painshill.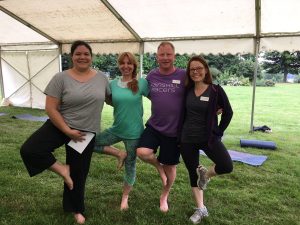 Tuesday – Mindfulness Taster Session
Painshill Director, Paul Griffiths joined Yvette Jane for a Mindfulness Taster Session as part of Painshill's Wellbeing Week.
Have you had tried mindfulness before?
No, not at all.  I have heard a lot about it especially in the weekend newspapers!
What did you think of the taster session?
It was a super session, I really enjoyed it. Yvette has a very calming manner and took us through the exercises with great skill.
What do you feel mindfulness can help with?
Allowing you to take time out to focus on yourself, to make you aware of yourself. Simple things like breathing well can really reduce stress.
Are there any techniques that you will take forward into your daily life?
I hope so, I certainly started to relax during the sessions, so much so I was starting to drop into sleep!  Something Yvette assured me is perfectly normal!
Find out more about Mindfulness on Yvette's website and look out for more classes at Painshill in the future!