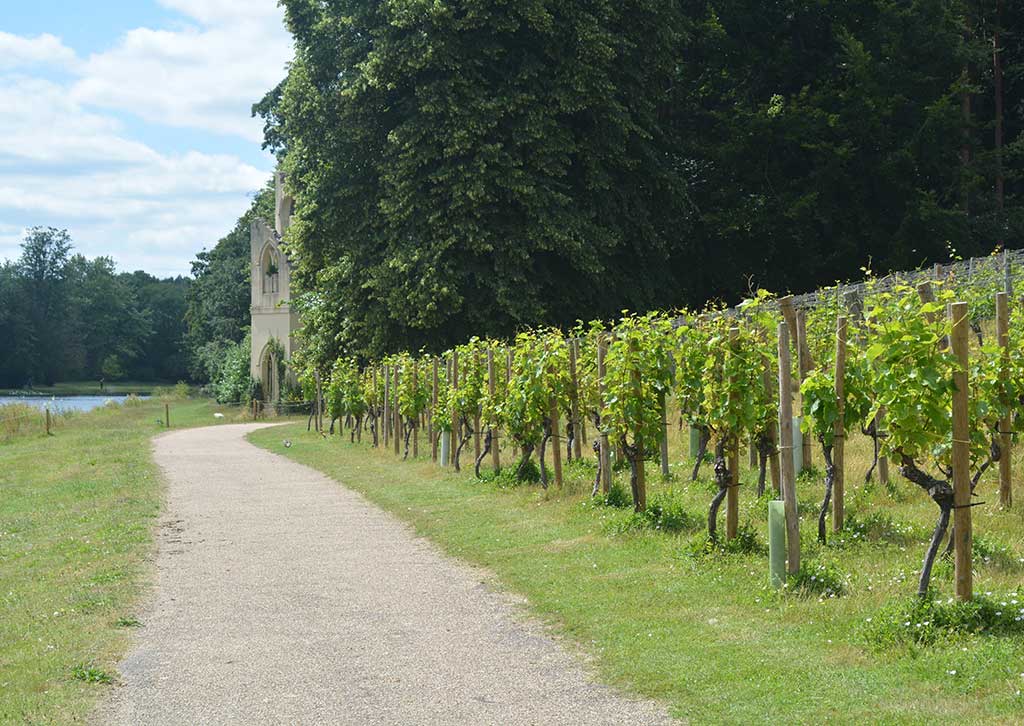 Painshill is accessible to all
Painshill Park Trust is committed to providing superior customer service to all of our visitors. We offer a variety of services to ensure the best possible accessibility to the landscape garden and facilities in recognition of the diversity of our general public's abilities and needs.
Tickets or membership
Free admission is given to the carer of a registered disabled person when visiting Painshill. You can book a free day ticket for a carer or include one carer on any type of membership.
Parking
We have dedicated Disabled Parking Bays positioned as close as possible to the Visitor Centre. Please note there is a walk of about 500 yards from the car park, across the bridge, to the Visitor Centre.
The Visitor Centre, Tea Room and Painshill Garden Shop
The Visitor Centre, Tea Room and Painshill Garden Shop are all accessible. The tills inside are all at an accessible height for wheelchair users
Accessible toilets
There is an accessible toilet in the Visitor Centre.
Accessible Route
We offer an accessible route around the landscape garden, ideal for those less able visitors or easy wheelchair/buggy access. Please note this route does not cover the complete landscape due to various terrains and ground levels but it does allow you to see many of the features including the Crystal Grotto.
The Crystal Grotto
The Grotto has steps at its main entrance. For easier access please enter via the exit. Please note the archway is narrow and very large mobility scooters might not be able to fit through it. Wheelchairs are available at the Visitor Centre.
Wheelchair hire
We offer a wheelchair hire service, free of charge for our less able visitors to make their visit as enjoyable as possible. These are available on a first come, first serve basis and we cannot guarantee availability on your visit. If you wish to reserve a wheelchair, please call us on 01932 868 113. We are afraid we do not have any mobility scooters.
Walking sticks and walkers are also available to borrow from the Visitor Centre.
Buggy Tours
For those travelling in a group of up to 5 less able visitors, we are able to offer an hour's guided tour of the park in one of our golf buggies. Please book at least 7 working days in advance of your visit. To book a golf buggy and driver, please call 01932 868 113. Please note this is subject to availability.
Cost: £15 if booking in a group of 5 people. £5 per person if booking as individuals. This is in addition to entrance fees.
Group Number: Maximum 5 people
Booking: Minimum 7 days advance booking required
Benches
There are benches around the landscape for those that need them. Please download a copy of our accessible route map to see where benches are found in the landscape.
Large print map
A large print map is available at the Visitor Centre. Please ask a member of the team.
Assistance dogs
All dogs are allowed in the landscape (on a short lead). All dogs are allowed in all areas including all the follies and the Tea Room (whilst ordering or collecting food and drink). Assistance dogs are permitted to stay in the tea room if eating and drinking inside.
Visitors on the Autistic Spectrum
There are many places in the landscape that are tranquil and calm even on busy sunny days. However to visit on a quieter day we advise avoiding school holidays and weekends if you can. We understand that queuing can be difficult for those with additional needs. Please let a member of our team know on your arrival and we will do everything we can to give you entry to the landscape quickly.
Dietary requirements
We have a wide range of food available in our catering outlets – including vegan, gluten free, dairy free and more. If you have a specific dietary requirement or food allergy, please speak to a member of our catering team before ordering.
If you have any queries before your visit please contact us.
Visiting more than once?
Why not become a Painshill member.
Things to See & Do
Painshill is an award-winning 18th century landscape garden where you are invited to walk around a work of art. Winding paths will take you on a journey to discover a living canvas with beautiful vistas and dramatically placed garden buildings. Stroll around the Serpentine Lake, wander through woodland and promenade past follies, including the Ruined Abbey, Gothic Temple and Turkish Tent.