The Temple of Bacchus
The Temple, built by Hamilton in 1762, was designed to house the statue of Bacchus (currently outside the shop) that he brought back from his Grand Tour.
It is dramatically placed at a high point to offer beautiful views and was greatly admired. Thomas Jefferson (3rd President of the United States) visited in 1786 and described it as "A Doric Temple. Beautiful"
Bacchus stood on a pedestal in the centre and other niches held statues of Apollo Belvedere, Venus de Medici, Mercury and Venus Marina.
By the time the Painshill Park Trust was formed in 1981 the Temple of Bacchus had collapsed.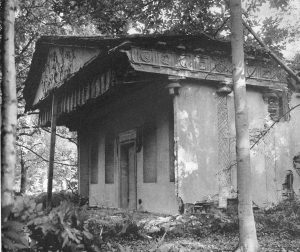 It is the most recent garden building to have undergone restoration. The outside was completed in Mar 2019.
The trust is now fundraising to complete the inside.