Painshill brings welcome laughter to Cobham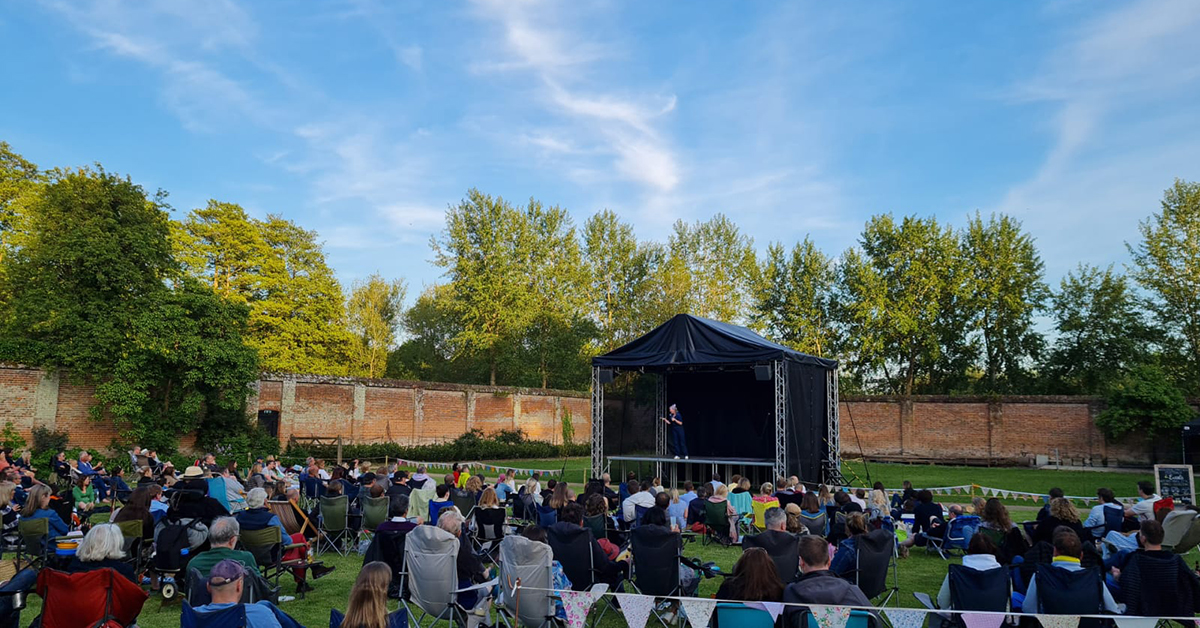 What an evening! We packed our picnic blankets and cool boxes of goodies and headed off to the Walled Garden in Painshill for an evening of live comedy. The first occasion of this kind that we'd been to for a long time (thank you Covid) there was a definite air of excitement for the evening ahead. And we were NOT disappointed!
Even as we first entered the grounds we were surrounded by friendly volunteers with big smiles, welcoming us to the event. There was a buzz around the other comedy enthusiasts (a very diverse bunch), whether sitting in their dusted off camping chairs or lounging on their picnic rugs – everyone enjoying being "out out" for the evening, whilst still feeling very safe at the social distancing in place. The sun was shining on the grass as it started dropping behind the walls of the garden and it felt for a moment like life was back to "normal" and there was a respite from the worries of the pandemic. For those wanting lubrication of an alcoholic sort the Corks bar had an array of drinks to suit any taste, which of course we made full use of!
The MC and the comedians were very funny – dealing with their change in performance scene brilliantly…from darkened comedy club or large theatre setting, to streaming comedy from their "home office" and now to an outdoor stage in front of the picnicking residents of Cobham (a village which many of them had never heard of – how could they not?!?). Each one brought their own style of comedy, which gave us all a lot of laughs – something that we all relished after the events of the last year. Two hours of comedy (with breaks for a couple of trips to the bar) flew by and we headed home with a spring in our step, reciting our favourite jokes from the show.
As sponsors of the events in the Walled Garden this summer we are not only very proud to be involved with Painshill and these fantastic events, but we're very grateful for their presence – to lift our spirits, to bring us together with our local community – and we can't wait to go to more of the events in the future. See you there? You know you want to!