Bacchus soon to return home, as the Temple of Bacchus nears completion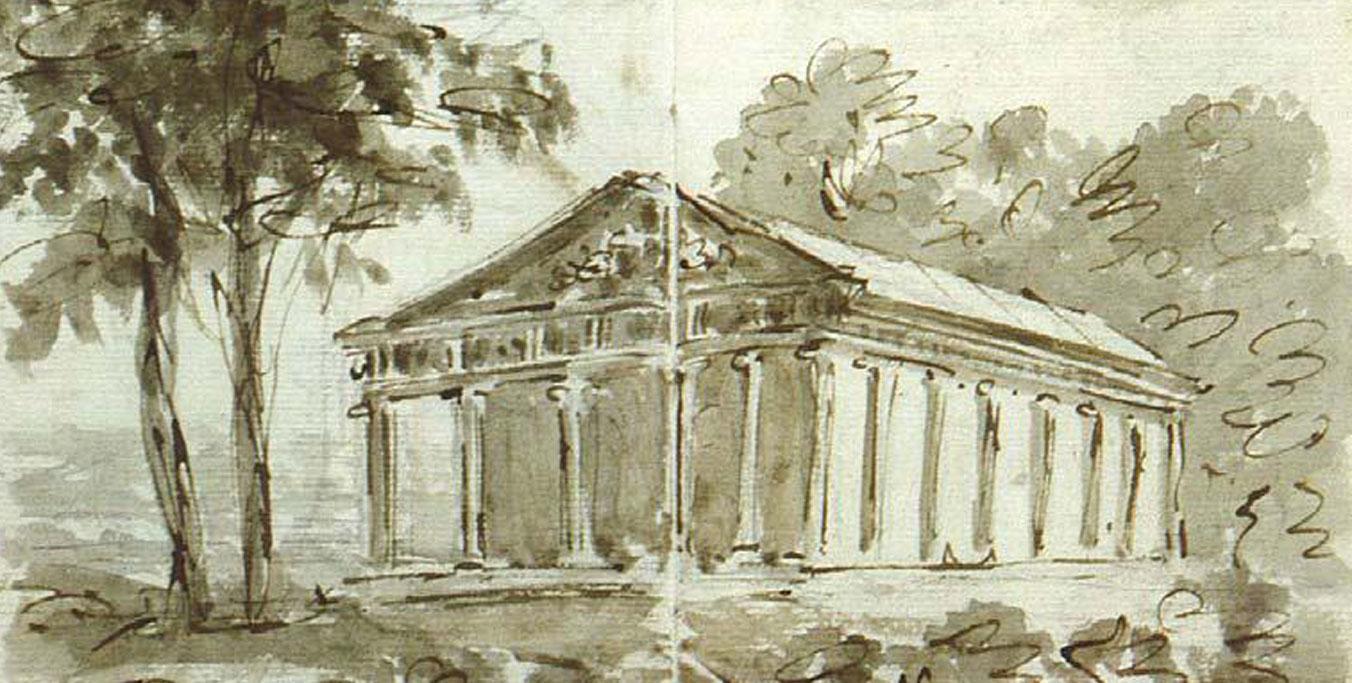 England's most elegant 18th century landscape garden, is on its way to revealing their pièce de résistance, the Temple of Bacchus.
With works now well underway on the restoration of The Temple of Bacchus, contractor, Cliveden Conservation, have been working hard over the last year to reinstate the original vision and concept of the brilliantly imaginative designer the Hon. Charles Hamilton.
Cliveden, who also restored the Crystal Grotto at Painshill, are long-standing partners of Painshill. Offering over 35 years conservation experience of statuary, masonry, wall paintings & decorative arts.
A valued contractor, Cliveden's work is now well advanced on the reconstruction of the Temple of Bacchus, and the roof is now nearing completion. Works on the tympanum have also begun at the Cliveden Conservation Workshop, with completion of the external structure due in September 2017.
Michael Gove, Chief Executive of Painshill comments; 'the completion of the Temple will be an outstanding achievement in the 36 year programme of restoration for Painshill. Once admired by John Adams and Thomas Jefferson, we're thrilled it will again be a magnificent addition to the restored landscape'. He continues, 'my thanks go out to the entire team, for their efforts and achievement in enabling this major piece of the restoration 'jigsaw' to be achieved. Another step forward has been made in making Painshill so special'.
The Temple originally home to a collection of antiques collected by Hamilton during his Grand Tours across Europe, featured a seven foot marble centrepiece statue of Bacchus, the Roman god of wine as well as 12 marble busts of Caesars. Whilst the contents of The Temple of Bacchus were sold in 1797, with the benefit of a private donation, a fine casting from the original Bacchus statue was gifted to the Trust, ready to be returned home on completion of the restoration.
As anticipation grows for the restored folly's reveal, Painshill are planning to officially launch the completed restoration of the Temple, along with the statue of Bacchus and landscaping in Spring of 2018. This will mark a momentous occasion for the Trust, and they welcome visitors to come and view the magnificent folly and observe Bacchus back in its rightful place.
An occasion that would not be possible without the generosity of individuals and other charitable trusts, fundraising has now also commenced for the interior ornate plaster work based on original designs by Robert Adam, the British Neoclassical Architect.
For more information on how you can become a part of this remarkable project, get in touch via 01932 868 113 or email info@painshill.co.uk.
Photography by Graham Dash