Charles Hamilton went on two Grand Tours, the first in the Jubilee Year of 1725 until 1727 and then again in 1732 when he joined companion Henry Fox in Rome.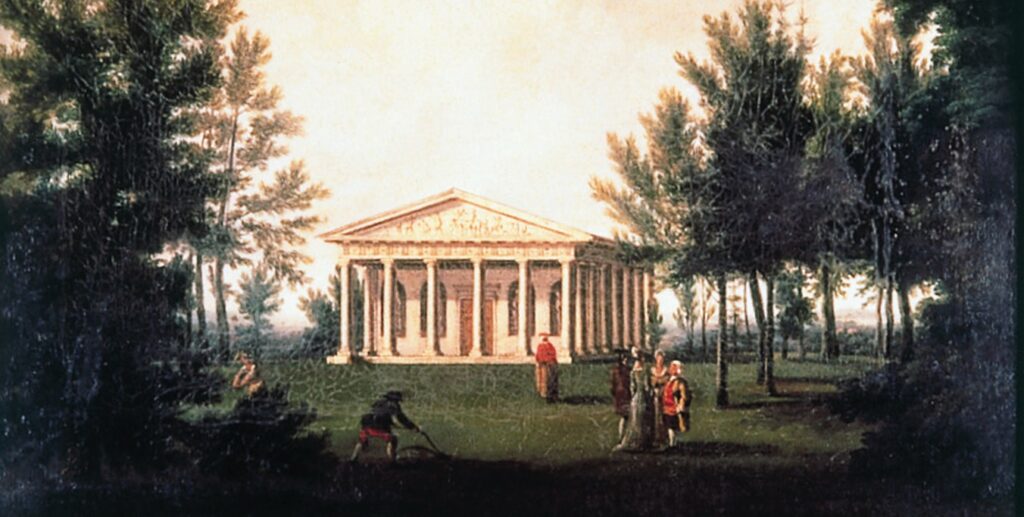 Although his exact route is not known, it is very likely that Hamilton would have stopped in Paris. Like many well-educated gentlemen, he wrote and spoke fluent French and later corresponded with the Abbé Nolin, who was the botanical advisor to King Louis XV. While in Paris, Hamilton may, as an interested plantsman, have visited the French Royal Botanical Garden, the Jardin du Roi (Garden of the King).
It is believed that Hamilton would have visited Nimes in France to see the Maison Carree and Florence to have seen the statue by Giambologna and The Sabine Group, in the Loggia die Lanzi. The Pitti Palace was one of the finest buildings in Florence, and in the garden are two grottoes that all visitors journeyed to see. The larger grotto, created by Bernardo Buontalenti in the 1570's, has walls of rough rock where reality and illusion merge.
In the 'Dictionary of British & Irish Travellers in Italy 1701 – 1800' by John Ingamells, Hamilton has only a short entry, but in December 1725 it is recorded that "he had engaged in an energetic political argument with Edward Southwell and had broken a coach window".
In March 1727 Hamilton is recorded in Padua escorted by William Bentinck, visiting Verona and Vicenza. Padua had the earliest Botanic Garden in Europe (1545) and would have held many botanical treasures. After this, Hamilton visited the Medici and Vatican art collections at the Vatican and later had copies made of some he had seen, such as Apollo Belvedere. Hamilton also collected paintings and sculptures, including the busts of twelve Caesars and most precious to him, a 7′ stature of Bacchus, the god of wine.
Hamilton later travelled to Naples and would have seen the natural grottoes along the coast, features of beauty and wonder which later may have inspired the grotto at Painshill. The trips to Italy were a great influence on Hamilton and he said that he would be happy to spend the rest of his life there.
Fun Facts
The area at Painshill known as the 'Alpine Valley' suggests that Hamilton journeyed across the Alps
When in Rome with friend Henry Fox (1732 – 1735), they had their portraits painted by artist Antonio David.
William Bentinck, whose father was the 1st Earl of Portland, had an exceptional botanical garden in the Netherlands
In Vicenza, Hamilton would have found many villas designed by Architect Andrea Palladio, he later subscribed to the 1738 edition by Issac Ware of Palladio's Four Books of Architecture