Elmbridge Philanthropy Fund visit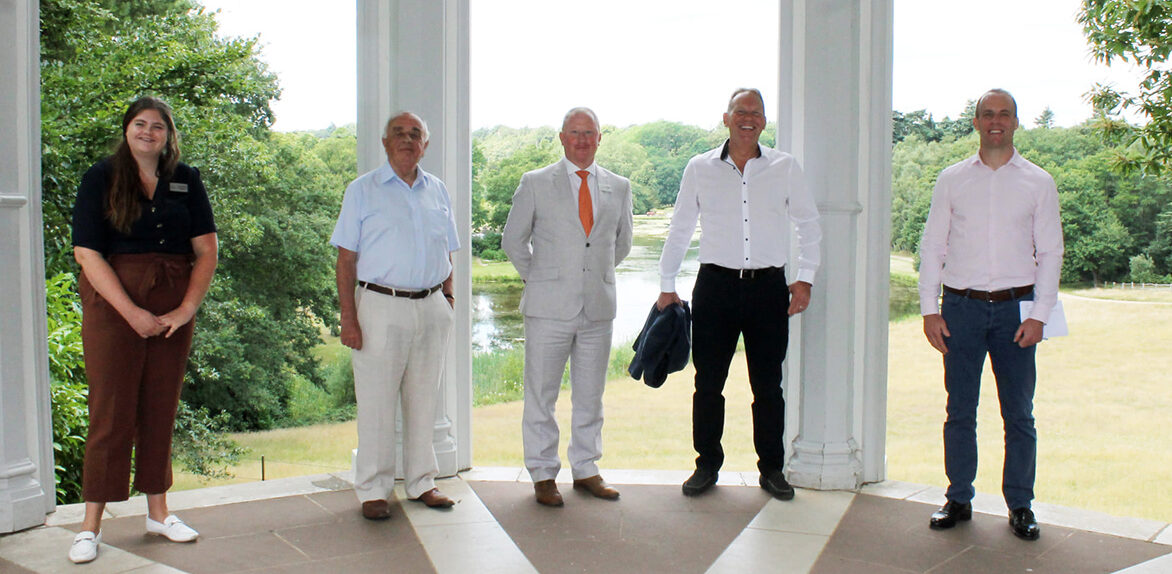 We were delighted to meet Simon Lewis and Esher and Walton MP, Dominic Raab representing the Elmbridge Philanthropy Fund today. We have benefited hugely from a grant they and Community Foundation for Surrey donated to us. The funding allowed us to recruit a Volunteer Manager to offer our team of volunteers more support.
Simon Lewis is the Chairman for Elmbridge Philanthropy Fund and Dominic Raab helped to set up the fund and is a proud supporter of the work that it does to assist the local community. Today they met with some of the volunteers to talk about how important Painshill is to them and the ways in which is improves their mental and physical wellbeing.
Painshill has a team of over 200 volunteers who help the small charity run the 18th century landscape garden. They take on various roles from gardening and maintenance to meeting visitors and running guided tours.
Thank you so much to the Elmbridge Philanthropy Fund and Community Foundation for Surrey for their continued support.
Esher and Walton MP Dominic Raab said,"It was great to visit Painshill Park today, seeing how it is bouncing back from the disruption caused by Coronavirus. Volunteers are crucial to the park's operation, so it was good to meet so many of them today. It was particularly encouraging to meet Lucy Ward, a Volunteer Manager whose recruitment was funded by a grant from the Community Foundation for Surrey and Elmbridge Philanthropy. Having helped to set up Elmbridge Philanthropy, it's fantastic to see it funding such important local initiatives like this."
Paul Griffiths, Director of Painshill, said, "It was a pleasure to have the chance to show Simon and Dominic what a huge difference the funding has made to Painshill. We couldn't manage without our amazing volunteers and, in return, want to ensure the beautiful landscape offers them the chance to improve their wellbeing and feel part of a team. It is fantastic to have Lucy, our Volunteer Manager, to give them support"