Santa's Snow Train and Crystal Grotto 
Important Information
Parts of Painshill are currently flooded and we can't safely run Santa's Snow Train.
Friday 20 December
Trains this afternoon are CANCELLED. Elves will help you walk to the Grotto to see Santa there.
After dark (4pm) it will be too dangerous to walk in the landscape, Santa will be moved to the Visitor Centre if you still wish to come and see him and get a present.
You will be offered a partial refund (please bear with our team while we process them).
If you do not wish to see Santa today please email your details and booking ref to customerservices@painshill.co.uk.
Saturday 21 December
Please look out at our website and social media for updates
Sunday 22 December
Please look at our website and social media for updates.
Everything you need to know about Christmas 2019 at Painshill
ABOUT THE EVENT
All aboard! Santa's Snow Train is ready to depart!
Join Painshill for a completely unique and magical trip on Santa's Snow Train this Christmas.
Enjoy festive colouring at the Visitor Centre before boarding a our Christmas land train. Take in the amazing views of the Painshill landscape on your train journey before arriving at our crystal Grotto.
Meet Santa in your family group and take in the sparkling crystal covered cave.
Book in the day time and finish your festive experience by enjoying our Christmas  trail and access to the Painshill landscape.
If your time slot is after daylight hours complete your visit with a beautiful walk back via a special lit path.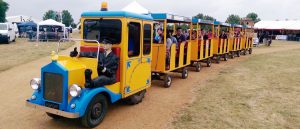 BOOKING FOR THE EVENT

Dates and Timings
Santa's Snow Train and Crystal Grotto will be running from
Sun 1 Dec until Sun 22 Dec (excluding Tues 10 Dec)
The train will leave the Painshill Station on the hour and half hour between:
10.30am – 12.00pm 
1.30pm – 3.00pm
4.30pm – 6.00pm

On the 2nd, 3rd and 10th December, it is possible to book between 3.00pm and 6.00pm.
It will take around half an hour to get to the Grotto. Please allow up to 2 hours for your visit.
How and when to book*

Booking will be online only.
*Please note: all sales are final. It will not be possible to amend or cancel a booking.
Prices
Adults – £10.00
Everyone 16 and over, no present from Santa
Children – £18.50
All ages 0 – 15 years who wish to receive a present from Santa
Children  – £10.00
For infants 0 – 1 or children 12 – 15 years who do not want to receive a present from Santa*
*Infants aged 0 – 1 or children 12-15 years that do not wish to receive a gift from Santa may board the train and enter the grotto with this ticket. However, at least one Child ticket priced at £18.50 must be purchased per booking.
Everyone riding the train must have a valid event ticket. This includes infants and babies. Due to limited space on the train.
Presents from Santa
You will have the option to choose an age range so we can find the best present for your child.
Ages ranges to choose from will be
0 – 1 years
1-2 years
2-3 years
3 – 4 boy/girl
5-7 boy/girl
8-9 boy/girl
10-11 boy/girl
12-15 years
Your tickets
You will receive your ticket for the event via email from Painshill with the subject line 'Your ticket for Santa's Snow Train and Crystal Grotto'. Please bring a copy of this email with you (print out or on a mobile device). You will also receive a Worldpay payment confirmation email, this email will not grant you access to the event. If you have only received the Worldpay payment confirmation email and not the ticket email, please check your junk mail. If you are unable to find the ticket email, please contact us by emailing info@painshill.co.uk or telephone 01932 868113. Please make sure you save a copy of the ticket email when you receive it.
Please print the email or have it open on your mobile phone when you visit.
Difference between day and evening tickets
Painshill is open for day visitors from 10am – 4pm. The sun will set around 4pm.
Visitors booking the day time slots will enjoy the train ride and see Santa in the Grotto, after which they are free to explore Painshill and take Santa's walking trail.
Visitors booking after the park is closed will take the train to see Santa, after which they will follow a lit path back to the Visitor Centre and enjoy the festive lights.
Ticket prices for all time slots is the same.
IMPORTANT – Refunds, changes and cancellations
To protect our beautiful Grotto, and ensure everyone can ride the train, there will be limited numbers on each train/time slot. We will not be able to change your time slot, amend your booking or add people to your booking after you have made it. Please ensure you book a time you can make and for the correct number of people.
AT THE EVENT

How to get here

Catching the train – please arrive early
Please be aware that space on the Snow Train is limited. If you miss your pre-booked time, you will NOT be able to take a later train. You must arrive in plenty of time to ensure you do not miss out on Santa! There will be Christmas food and drink available at Painshill Central Station and Christmas colouring to get you in the festive spirit before you board the train.
Seeing Santa
At the Crystal Grotto there will some cover while you wait to see Santa. However please note there will be no catering at the Grotto. Visitors will see Santa in the groups they booked with. Families with access needs might be taken into see Santa first. Please have patience and kindness with Santa's elves.
Walking back from the Grotto
The walk back from the Grotto is around half a mile. Both in the day and night there will be festive Christmas trails for your family to enjoy.
Bikes, scooters and buggies
Bikes and scooters will not be allowed at this particular event.
Buggies are allowed and the route is accessible. Buggies will be loaded onto the train and will travel with you. If you have a buggy please leave extra time to get onto the train.
However, buggies cannot fit through the Grotto. There will be a buggy park outside it.
Food and drink
Please note there will be no food and drink at the Crystal Grotto.
The Tea Room (next to Painshill Central Station!) will be open 10am until 6.30pm. A festive menu will be served. Mulled wine and other festive treats will be on sale for you to enjoy.
Access
Unfortunately Santa's Snow Train cannot take a non-folding wheelchair on board. We are very sorry that this is the case. If you would still like to see Santa in the Grotto we will be very happy to help you. Please don't book online but call us on 01932 868113 and we will talk through the options with you.
If you have family member or child who has special requirements please inform us after you have made your booking by emailing info@painshill.co.uk with your booking date and train time. If Santa's elves know they will be on hand to help. If you wish to talk about everything in advance please call 01932 868113.
Dogs
Dogs are unfortunately not allowed on the train or in the Grotto. We ask you not to bring them to Painshill for this particular event.

Weather
Painshill is an outdoor venue and the weather in December will be cold and potentially wet. Please note that we will only cancel the event if the instance of very high winds and/or thunder and lightning.
Any decision to cancel will be communicated as soon as possible.
No refunds will be given simply if the weather is inclement and the event goes ahead.

What to bring and wear
The event is outdoors and not always covered. Please ensure you have sufficient warm and waterproof clothing. Whilst all paths on the trail are hard surfaces, appropriate sturdy outdoor footwear is essential. Some paths are uneven.
If you are visit after dark the paths will be lit but please also bring a torch.

Safety
Drones are not permitted at Painshill. Please do not smoke or bring in naked flames such as candles or lanterns.

Photography
There may be photography and filming at this event. If you would prefer not to be on camera please let the Painshill staff know.