Important Information
Painshill is flooded and we can't open the site safely.
 Santa's Snow Train is CANCELLED on Saturday 21 and Sunday 22 December.
We are terribly sorry to let people down at Christmas but the landscape is unsafe.
You will be offered a full refund. Please bear with our small team while to ring around everyone and issue their money back. You may not hear from us until the New Year but we promise we will be in touch.
This event is now sold out
Why not join us for Christmas cinema instead? Get cozy in the Painshill conservatory with a family screening of a Christmas classic.
Christmas 2019 at Painshill
Santa's Snow Train and Crystal Grotto
All aboard! Santa's Snow Train is ready to depart!
Join Painshill for a completely unique festive experience this Christmas. Take a magical train trip to see Santa in our incredible Grade 1 listed Crystal Grotto.
Enjoy festive colouring at the Visitor Centre before boarding an amazing Christmas land train. Appreciate the stunning views of the Painshill landscape on your train journey before arriving at the bright and twinkling Grotto.
Meet Santa in your family group and take in the sparkling crystal covered cave. Every child can get a present from Santa and his elves.
Book in the day time and finish your festive experience by enjoying the Painshill Christmas trail and access to the Painshill gardens.
If your time slot is after daylight hours complete your visit with a beautiful walk back via a special lit path.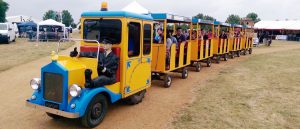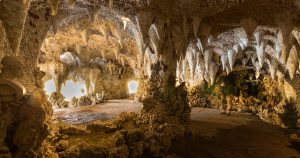 VERY IMPORTANT – PLEASE READ BEFORE BOOKING:
Booking is online only.
Our Crystal Grotto is beautiful but also delicate. To protect it, and ensure everyone can ride the train, there will be limited numbers on each train/time slot. Please note that you will not be able to walk to access the Grotto before your time slot, you will be required to get the Snow Train you are booked onto (why would you want to miss out on it!). Anyone riding the train and visiting Santa in the Crystal Grotto must have a valid event ticket. Only those with a valid event ticket will be permitted into the train station waiting room, onto the train, marquee on Grotto Island and Crystal Grotto.
This will include infants, due to space on the train and in the Grotto babies will need to be booked on. However there is a lower price should you feel your baby doesn't need to receive a present.
Please ensure you book a time slot convenient for you and book for the correct number of people. We will not be able to change or amend your booking once it has been made.
If you miss your train we will not be able to fit your party on next one. Please arrive in plenty of time to get your train! There will be Christmas colouring and festive food & drink on sale for you to enjoy while you wait.
The Tea Room (next to Painshill Central Station!) will be open 10am until 6.30pm. A festive menu will be served. Mulled wine and other festive treats will be on sale for you to enjoy.
EVERYTHING YOU NEED TO KNOW ABOUT SANTA'S SNOW TRAIN & CRYSTAL GROTTO – please read before proceeding with your booking.
Santa's Snow Train and Crystal Grotto
Please note: 
At least one child ticket priced £18.50 must be purchased per booking. 
Children must be accompanied by an adult at all times. Maximum 4 children per adult. 
Dates: Sun 1 Dec until Sun 22 Dec (excluding Mon 9 Dec)
DATE
1st December 2019 - 22nd December 2019
TIME
10:30 am - 6:00 pm
| | |
| --- | --- |
| Infant or child 0 -15 (includes present) | £18.50 |
| Adult | £10.00 |
| Infant 0 -1 or child 12 - 15 years (with no present included) | £10.00 |