Christmas 2020 at Painshill
It is with a heavy heart that we have chosen to cancel Santa's Snow Train and Crystal Grotto this year.  We felt we could not make the small land train and other areas of the event socially distanced and therefore COVID-19 safe.
We hope the event will be back next year but Christmas 2020 we can still being you some much needed festive cheer!
Join Painshill for a fun family trail outside in the landscape!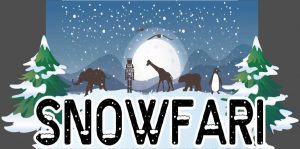 From the company that brings us the spectacular dragon statues comes a festive trail that's fun for all the family. Walk a route packed full of amazing animals, glittering snow, Christmas trees and giant gingerbread men.
Enter four different realms across the Painshill landscape and spot all the incredible statues. Start at the giant Nutcracker forest before taking a stroll through the safari animals. Watch out for polar bears, point out penguins, learn about reindeer and see if you can find the elusive snow leopard. 
This event will run from Saturday 21 November until Sunday 3 January and will be free anytime for members. It will be included in general admission for those with day tickets and included in all tickets for Tea & Cake with Santa. It will go on sale Friday 23 October at 12noon. 
On sale will be a fun and festive activity book for children with facts about the animals and puzzles to complete and take home. 
Adult Workshops
This Christmas we will still be running adult workshops. They will be in the Education Centre and limited to 5 people so we can really spread out and keep 2m away from others. Workshops include Wreath Making and Botanical Watercolours.
Tea and Cake with Santa
Join Painshill for tea and cake and a visit from someone very special.
Seated in our decorated function room, socially distanced in your family group, enjoy a hot drink and Christmas treats before families can go up to see Santa one table at a time. 
All children can receive a present and have the chance to have a photo with Santa (at an appropriate distance).
Ticket prices to this event also include entry to the Painshill gardens so you can have a whole day of festive fun with our Snowfari Christmas trail in the landscape as well. 
Tables will have no more than 6 people on them and the room will only have up to 20 people in it at a time. Everything will be sanitized and ventilated in between sittings. We ask that people book only in their household or 'bubble' as Painshill is in tier 2 for COVID-19 restrictions. 
With a limited capacity for this event we are offering our Painshill members a priority booking period. This event will go on sale…